Grand Master "Datu Tim" Hartman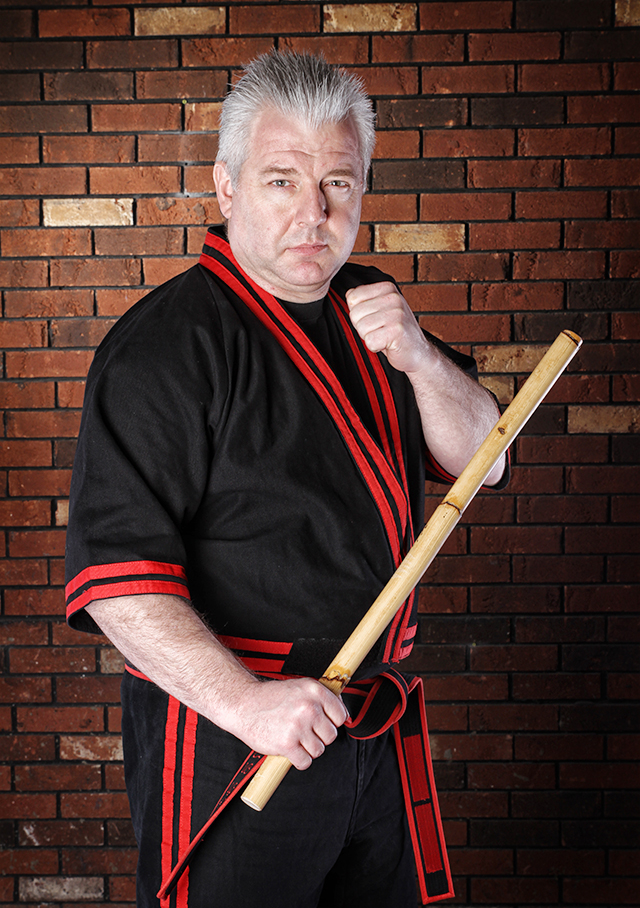 After the passing of the founder of Modern Arnis, Grand Master Remy Amador Presas, Datu Tim Hartman became the most sought after instructor of this dynamic martial art. Datu Hartman currently conducts seminars throughout the United States and Canada, as well as Germany, Denmark, Sweden, England, Philippines, Poland, Barbados, Venezuela, Italy,
Iceland, Chile and Portugal.
Tim Hartman has had a long and exciting martial arts career. His journey started as a teenager when he started training at a Modern Arnis school and fell in love with the art from the very first class. It wasn't long before he caught the eye of Professor Presas. After Tim earned his brown belt Grand Master Presas took him as his personal student and protégé. Not long after this Grand Master Presas had Hartman assist him at seminars and camps throughout the United States and Germany. In time Professor Presas took to calling Tim "anak," the word for "son" in the Tagalog dialect of the Philippines.
Impressed with Hartman's technical skills, Professor Presas started trusting Tim with administrative duties. He directed Tim to form the Can-Am (Canadian – American) chapter of the International Modern Arnis Federation in order to help develop schools along the Canadian American border. As Can-Am's director Hartman was able to positively impact the development of instructors throughout the region.
After establishing a successful instructors development program Hartman spearheaded a movement to bring Modern Arnis to the competitive arena by taking members of his youth program to the local tournaments. On their first outing his team dominated the sparring
divisions. Soon they hosted and competed in full contact tournaments and weapons matches. Hartman himself became an international tournament champion, a tournament promoter, and a popular referee throughout the US, Canada, Scandinavia, and England.
Following his venture into the sport world, Hartman put his focus back on the art of Modern Arnis and continued his development as an instructor. Working with Professor Presas around North America and Europe also allowed Tim to study other systems with some of the best instructors in the martial arts world. Among these are Grand Master Wally Jay, Grand Master Ron Van Browning, and Dr. Maung Gyi. Eventually Hartman met one of Professor Presas' classmates from the Philippines, Balintawak Escrima Grand Master Ted Buot. With Professor Presas' blessings Grand Master Buot took Tim on as a personal student.
Tim feel's that he had two defining moments in his Filipino Martial Arts career. The first was during his 6th degree black belt test at the 2000 Michigan Modern Arnis Camp. Following the test Professor Presas announced that Hartman's promotion was the highest tested belt in over 17 year's. Professor Presas added that this made Tim his top ranked student in the United States. He also awarded Hartman the title of Datu (chieftain or leader). There have only been six people in the world awarded this title by Remy Presas. The second was on April 23, 2007 Datu Hartman was promoted to 9th degree in Kombatan and awarded the Grand Master title by Great Grand Master Ernesto Presas while visiting the Philippines.
After Professor Presas' retirement due to illness Hartman formed the WMAA (World Modern Arnis Alliance) in order to preserve and continue the progression of the art of Modern Arnis. He is currently the WMAA's President and Technical Director.
Since the late 1980's. Datu Tim Hartman has been hosting martial arts events in the Buffalo area. He quickly gained recognition for hosting some of the best events in the Western New York – Buffalo/Niagara region. Eventually, Datu Hartman expanded into running training camps, tournaments, and even international martial arts tours.
Here is a list of some of the instructors that have taught at Datu Hartman's Events:
Grand Master Remy A. Presas – Founder of Modern Arnis
Dr. Maung Gyi – Grand Master of Bando
Grand Master Bobby Taboada – Balintawak
Grand Master Ron Van Browning – San Soo Kung-Fu and MMA
Grand Master Nene Tortal – Dekiti Tirsia Kali
Grand Master Kim Foreman – USA Ryukyu Kempo
Grand Master Richard "Huk" Planas – Parker's Kenpo
Grand Master Robert Castro – Escabo Daan
Master Micheal Giron – Original Giron Escrima
Tuhon Jack Latorre – Pekiti Tirsia Kali
Matee Jedeepitak – 4x World Muay Thai Champion
Roberto Atalla – World BJJ Champion
Rob Colasanti – Martial Arts Business Consultant
Rondy McKee – Martial Arts Business Consultant
What many aren't aware of is that while Datu Hartman went to school he specialized in the performing arts.His first passion was music, but soon ventured into acting. After time Hartman figured out how to combine his two loves, the martial and performing arts. On a chance meeting with an old friend, Hartman was asked to fill in as a fight choreographer on an independent movie being filmed in the area.
IMDB Bio here
Datu Hartman's competition career started in the mid 80's.It didn't start off well. Ath that time Hartman hadn't figured out how to apply Filipino Martial Arts to the open martial arts tournament.
Titles:
2014 World Sikaran Championship
World Title in Stick Fighting
World Title in Stick Fighting
2018 World Sikaran Championship
World Title Sparring and
World Title Weapon Forms
Silver in Hand Forms
EDT – Edged Weapons Defensive Tactics
EDT (Edged weapon Defensive Tactics) is a Defensive Tatctis program geared to deal with untrained knife wielding opponents. This is a 101 approach to bladed defense is currently being taught in police academies to Sheriffs, Correctional Officers, DT Instructors and Street Crime Units.

The Tomahawk

Resurgent in movies, and now a common breaching tool on the battlefield, the tomahawk has become a trendy specialty. We utilize the tomahawk as a tool for teaching multi-plane movement, enhanced disarming and trapping, and reinforcing universal striking lines. The hawk has real-world application for those who travel in the back-country, or who go in harms way. As a tool, it corresponds directly to any number of items at hand in an emergency, from a hammer to a tire iron. In addition it is a natural for anyone exploring stage combat. The WMAA offers the tomahawk as a stand-alone module which dovetails seamlessly with our contemporary defensive tactics (TUSK) module as well as our complete art.